Black Dog Syndrome (BDS) is when Shelter Mutt black dogs are overlooked for adoption due to their dark coats.
When I went to a local animal shelter in 2008 looking to adopt a dog for our family I was looking for a middle-aged Shelter Mutt with a submissive personality. We had a strong alpha Shelter Mutt at home (who also happened to be black) and who was struggling emotionally after losing a long-time companion.
Walking into the shelter, I took a quick walk around and paused at a kennel where a sweet, young (four-month old) black flat-coated retriever mix took one look at me and rolled over to show me her belly. How I wanted to give it a scratch!
Quickly, I walked away – we were not bringing home a puppy!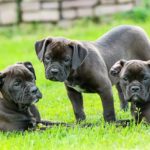 Well, as you can probably guess, that puppy had me hooked and long story short – we brought her home after she met the family (Taz, our alpha Shelter Mutt included).
While asking about Marley's origins, the shelter worker explained that when they had open kennels, they would rescue dogs from kill shelters. Marley had been one of the dogs scheduled for euthanasia.
WHAT?! The adorable puppy in front of me? She was so sweet (and a puppy!) it should be easy to find her a home – why would the shelter choose to euthanize her over other dogs?
The answer shocked me. She was black. The shelter worker explained that black dogs sit longer in shelters and therefore, due to limited space, they wanted to keep the dogs that had a better chance for adoption. This was the first I heard about Black Dog Syndrome.
Curious, I did some research into why people avoided bringing home a black dog. Here's what I found;
*Black dogs can seem more menacing. Their facial features are harder to read than lighter colored dogs.
*Black dogs are shown in media as more aggressive or 'evil'. (This includes TV and books as well – consider Arthur Conan Doyle and his portrayal of black dogs in literature).
*The expression 'Black Dog' is a term for depression (and some people make that association with real dogs).
*There is an abundance of black dogs so they are not considered 'unique'.
Shelters can use some of these tips to feature black dogs and help avoid Black Dog Syndrome for their Shelter Mutts;
*Photograph black dogs wearing brightly colored bandannas against a light background (this is even more important in these current times where people look on the internet to find adoptable dogs). Tongue hanging out in a friendly, happy go lucky pose is helpful!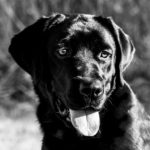 *Black dogs should not be kenneled next to each other or people might pass by the whole section without pause.
*Offsite adoption events are a great place for people to meet a black dog and get to know his/her wonderful personality!
*Naming the dog something cute, fun or lighthearted can make a huge difference! Colorful or fun toys and bedding can also be extremely helpful.
A four-year study done by Christy L. Hoffman, PhD., from Canisius College sheds some doubt that Black Dog Syndrome is real. The study showed that black dogs did not sit in shelters longer than their lighter coated counter parts. However, this study was done in two shelters in the Pacific Northwest. It's important to consider that location may play a part in the findings.
Many shelter workers are convinced that it's real.
Whether Black Dog Syndrome is real or a thing of the past – it's still important for shelters to recognize and take steps to make sure that all dogs are highlighted in the best possible way for adoption.
Because ALL Shelter Mutts deserve a happy ending – finding their 'furever' home!