A Shelter Mutt's Favorite For Hot Summer Days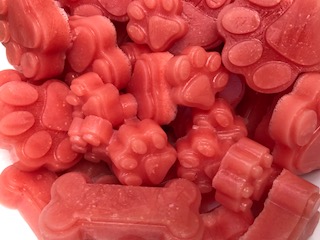 Here's one way I like to keep my Shelter Mutts cool in the summer heat – frozen treats!
Grizz will even sit VERY pretty while anxiously awaiting one of these sweet treats.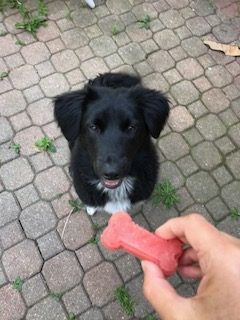 Grizzlie is still a puppy and the Midwest summer thermostat is trending high. Grizz's dark, thick coat and high energy level – makes it easy for him to become overheated.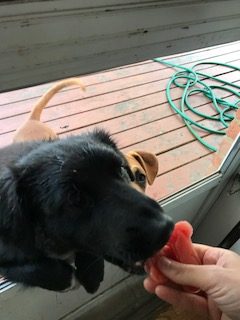 Add to the mix – a puppy summer play date with his best friend, Winston – and there are TWO Shelter Mutts I'm trying to keep cool. (Most lazy days, Savannah is content napping in the shade).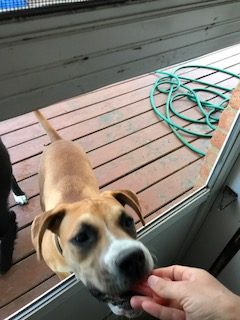 Winston definitely approves of these treats so we sent him home later with a 'doggie bag' – this recipe is wonderful because it makes plenty to share! (Although Grizzlie wasn't sure we should send SO many home with Winston).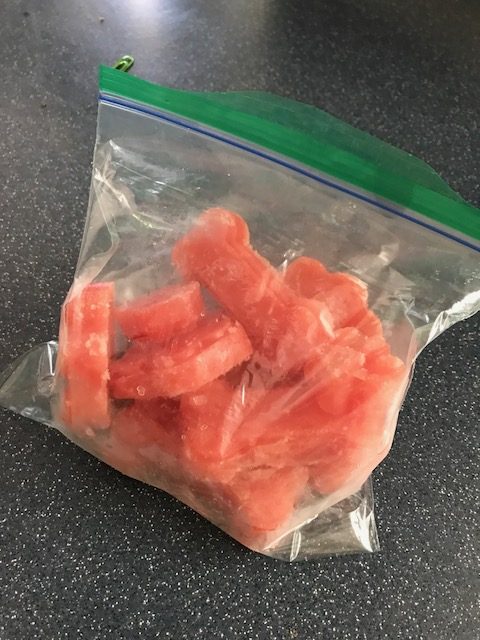 These treats are super easy to make (and yummy for humans, too!)  Here's the Grizzlie and Winston approved recipe below;
Watermelon/Coconut Treats
Take half of a small seedless watermelon and one to 1 ½ cups unsweetened coconut milk and put into a blender – blend on high. If you are using a watermelon with seeds – just be sure to remove them first.
*This recipe does NOT need to be exact. The watermelon to coconut milk ratio can be off and the recipe will still turn out delicious! Using unsweetened coconut milk keeps the sugar down.*
Pour into treat molds (this recipe makes enough to fill a few molds depending on what you are using) alternatively, you can use ice cube trays or any other frozen treat mold.
I use the silicone molds for this recipe because I've found a few in cool doggie treat shapes!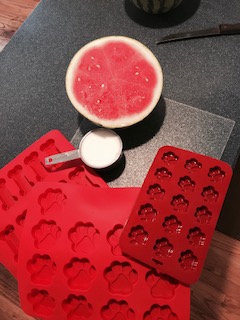 If using silicone molds it's best to put a cutting board, cookie sheet or other flat item underneath the molds or they flop around and liquid may spill out.
Set these into the freezer until frozen (best to freeze overnight).
Give to your dog(s) for a tail-wagging treat!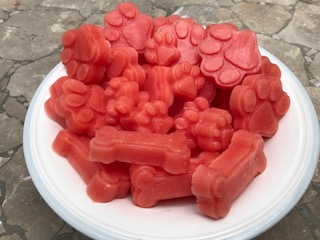 As with any treat – give to your dog in moderation – which can be hard when your Shelter Mutts are demanding more!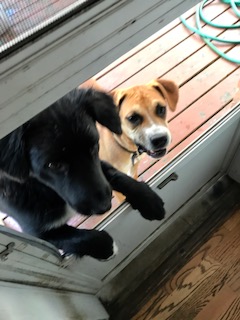 **As with any dietary addition – it's always best to check with your vet and see if any foods are off limits to your Shelter Mutt!